Karona was formed from the merging of Akroma and Phage.
Akroma and Phage met on the battlefield for their final confrontation. Kamahl, finally roused out of his meditation to deal with the serious events unfolding, attempted to strike Phage down and end the bloodshed once and for all. But something happened. Kamahl's interference, and the Mirari's power, fused Akroma and Phage into an awesomely powerful being encompassing all five colors of mana.
Karona, as this fledgling god calls herself, brought most of Otaria to its knees. Every race saw her as one of its own gods: to the soldiers and clerics, she appears to be the Ancestor; to the elves, she is the ultimate avatar of nature; and so on. Her Decrees to these races are short and sweet: wage war for her. And they do, with gusto. The entire continent is engulfed in one huge civil war.
Due to his role in her creation, Kamahl stands alone as one of the only beings unaffected by Karona's commands. His only hope is to reach out to the imprisoned Ixidor, and together the two of them must try to stop Karona before her power grows to unstoppable proportions.
"Rise once more, so you may continue to destroy our enemies." -Karona, false god (Recuperate)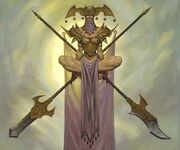 Community content is available under
CC-BY-SA
unless otherwise noted.